Classy & Casual Bites
Ajax Tavern
Relish an informal yet refined lunch on the sunny mountainside patio of Ajax Tavern. This restaurant has won various awards and accolades, including #2 Best Aspen restaurant by Food & Wine, the best Après-Ski Bar in the US by theculturetrip.com, and #1 on Esquire Magazine's list of "15 More Restaurants Not to Miss."

Ajax Tavern is the premier location to enjoy casual, upscale dining in an unrivaled atmosphere. Some popular menu items here include the kale & quinoa caesar, onion soup gratin, and savory wagyu double cheeseburger. If you're in the mood for seafood, opt for some raw bar selections like fresh oysters or crab. Wash it all down with a refreshing Colorado beer, a glass of merlot, or a signature Ajax cocktail.

Don't forget dessert! Sweets include a selection of ice cream and sorbets, a zingy raspberry and lemon verrine, rich peanut butter and chocolate pie, and a unique pistachio creme brulee. If you're hitting the slopes and want to replenish yourself with an upscale meal and a stunning view, head to Ajax Tavern.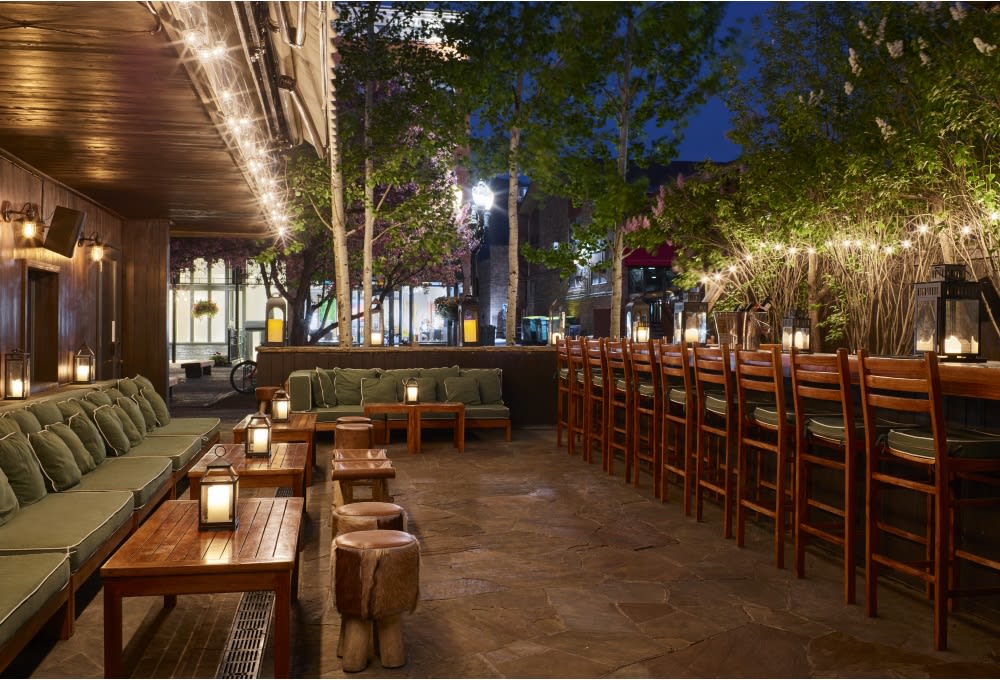 Credit: Casa Tua
Casa Tua
The focus of Casa Tua is combining fine dining with simplicity, craftsmanship, and sustainability, and providing a comfortable atmosphere. This rustic yet elegant restaurant features delectable Italian fare and a backdrop of rotating art and photography installations.

The front patio boasts stunning views of downtown Aspen, while the back patio has a more secluded vibe and views of Ajax Mountain. In addition, the club terrace on the second floor is another relaxing space to enjoy a delicious dinner. There are concise and carefully curated menus for lunch and dinner. Pasta dishes include lobster risotto, ravioli elk ragu, and fettuccine with wild mushrooms and black truffles. Casa Tua makes for an excellent dinner date destination, where you can share some caviar, oysters and finish with a hearty rack of Colorado lamb. If you're craving some luscious Italian cuisine with several patios for taking in scenic views of Aspen, look no further than Casa Tua.
Clark's Aspen
Clark's Aspen features a seafood-centric menu, a fabulous happy hour, and a rustic Italian/American menu. Their patio is welcoming and perfect for a gathering with friends sharing laughs over some strong martinis. Head over for a lunch date complete with a shrimp or crab Louie salad and a cup of New England clam chowder. Alternatively, head here for dinner and gaze deeply into your partner's eyes over a bowl of steamy Clark's cioppino and a glass of sauvignon blanc. Happy hour is a must-visit as martinis are half off, oyster shooters are $5, and Aspen and Austin locals can cash in on the $8 shot-and-a-beer deal. The raw bar features a delightful selection of oysters, ceviche, steak tartare, and more. So stop by for a lobster roll and catch up on the latest gossip over a stirred Vesper martini at Clark's Aspen.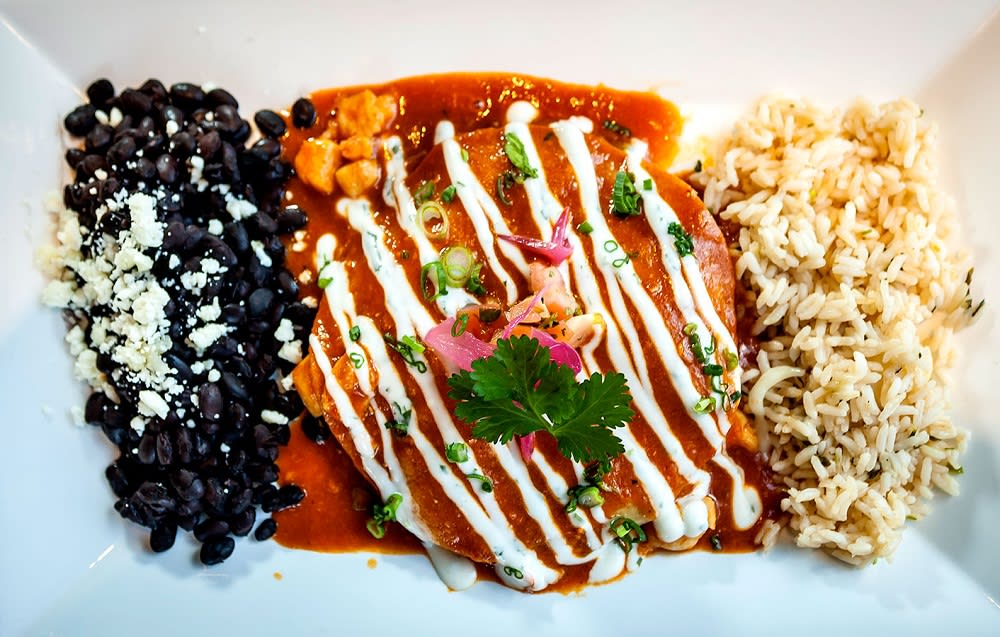 Credit: Mi Chola
Mi Chola
For a tasty Mexican meal in a posh environment with a delightful outdoor patio, head to Mi Chola. A term of endearment, "mi chola" translates to "my girl." The owners, Darren Chapple and Adam Malmgren, see this Aspen cantina as their baby, and they have poured their hearts and souls into this restaurant. Stop by for a lunch or dinner experience to appreciate all the love and effort they have put into Mi Chola. The menu is filled with classic Mexican favorites with modern twists. Given the many street taco choices, the trout and Korean BBQ are excellent options for adventurous diners.

Further your culinary exploration by trying the risotto relleno or prickly pear ahi. Libations include several on-tap cervesas, vino, and a creative list of margaritas, including the unique beet-lime margarita and spicy old fashion cholo margarita. Mi Chola serves up inspired dishes, tasty drinks, and an exceptional setting for socializing and having a good time.
White House Tavern
Enjoy elevated sandwiches, burgers, salads, and craft cocktails in the intimate setting of White House Tavern. Share a few snacks with your friends, like the dip duo featuring jalapeño queso and guacamole, served with tortilla chips, or some Southern-style brussels sprouts with lemon aioli and grated Reggiano cheese. For a heftier plate, try one of the sandwiches or salads, like the macho salad or the Gulf Coast-style fish sandwich. Get there early for the fish sandwich, as it's a crowd-pleaser and has limited availability. Wash down the fantastic appetizers and sandwiches with a glass of wine, classic cocktail, or an ice-cold brew. The patio offers guests heat lamps for snowy Aspen days and nights, so be sure to head here for a relaxing and tasty lunch date.
Haute Cuisine
L'Hostaria Ristorante
If you've got a craving for authentic Italian cuisine and wine, head to L'Hostaria Ristorante. This exquisite restaurant features live music, a vibrant bar, and a lovely patio that travelers and locals adore. The walls feature beautiful artwork, and the atmosphere is excellent for a meal amongst friends or a romantic dinner date with your sweetheart.

For a light, fresh start to your meal, order the Insalata Montanara, made with organic arugula, gorgonzola cheese, pears, walnuts, and balsamic vinegar. The antipasto Dell'Hostaria, a dish of cured meats, olives, and Montasio cheese, is perfect for sharing. Pasta is made fresh daily and includes tagliatelle, garganelli alla carbonara, fettuccine alla bolognese and more. There are also several options for meat lovers, including grilled beef tenderloin and breaded veal chop.

End the meal on a sweet note with a traditional panna cotta, served with fresh berries or a creamy tiramisu. So select a bottle of wine to complement your courses, bring an empty stomach and your best friends, and revel in the fabulous food and surroundings of L'Hostaria Ristorante.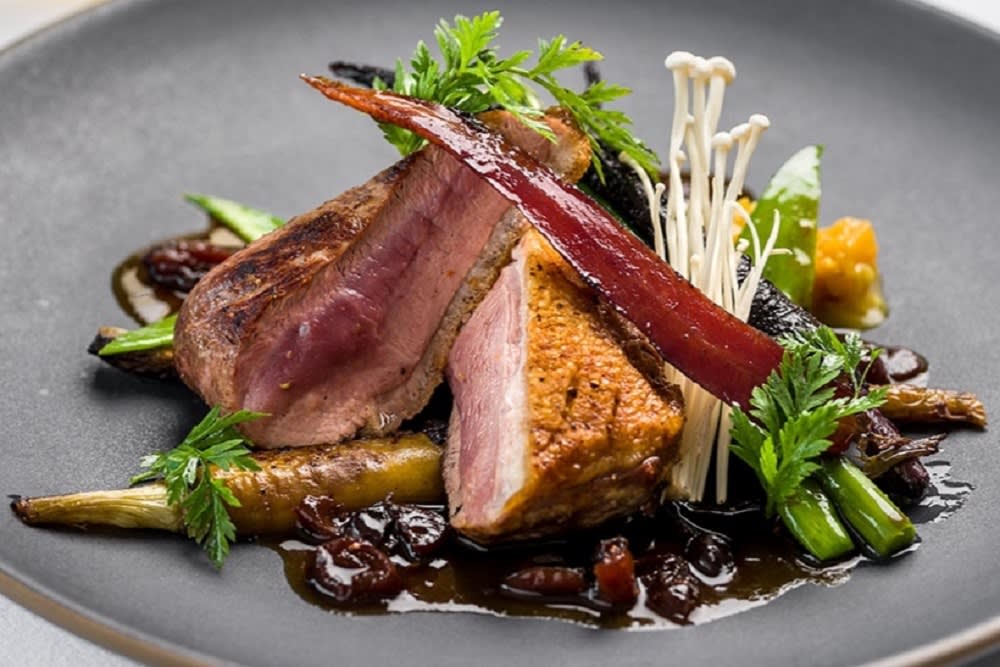 Credit: Betula Aspen
Betula Aspen
Betula Aspen serves up French Pan-American fares in a chic and cozy setting. This second-floor restaurant boasts a patio with comfortable couches and lounge chairs overlooking the stunning Ajax Mountain. Chef Laurent Cantineaux brings a French approach to his American-inspired dishes, providing patrons with a flavorful and multi-faced dining experience. The menu is inclusive and offers many options for people with varying tastes.

Start your dinner with some bluefin tuna tataki, prepared with cucumber, bok choy, and enoki mushrooms. If you prefer a warming appetizer on a chilly Aspen day, order the spring vegetable soup or indulge in the duck foie gras "Chaud Froid." Seafood lovers will cherish the pan-seared jumbo sea scallops, while the suckling pig pork confit is a better fit for those who prefer to eat dishes from the land.

Of course, your dinner isn't complete without a potent cocktail and dessert, and Betula Aspen has a variety of both. If you're looking for a sumptuous American restaurant with a modern ambiance and Victorian charm, Betula Aspen is perfect for you.
French Alpine Bistro
Experience a romantic candle-lit dinner at the charming French Alpine Bistro. This award-winning establishment is adorned with rustic wood panels and whimsical antiques from the old world. Stop by for a casual lunch of sweet crepes, reserve your dinner table, and feast on European-inspired plates. You can't go wrong with ordering a signature dish, such as classic French escargots, moules-frites, or steak tartare. Veggie lovers can appreciate the "from the garden" options, while red meat lovers can enjoy a Colorado rack of lamb, wagyu burger, or aged filet mignon. If you simply can't choose which dish to taste, opt for the tasting menu, where you select any three dishes to sample. For the ultimate luxurious experience, order the champagne and caviar featuring sustainable royal sterling caviar and a bottle of Dom Perignon discounted at 50%. The intimate patio is ideal for relishing a savory dinner with your love, so reserve your table at French Alpine Bistro today.
Credit: Bosq
Bosq
Bosq has brought innovative creations made with ingredients from local farms and backyard foragers to the Aspen culinary scene since 2016. This tasting menu-only restaurant is family-owned and operated by chef Barclay Dodge and his wife, Molly Dodge. Barclay shares his love for agricultural tradition through his gourmet dishes. The menu changes with the seasons and can be enjoyed in four, five, or seven-course options. Most dishes are created with sustainable, organic, and wild-foraged ingredients. Some of the plates served here include duck liver mousse, fresh house-made cheese, lobster grilled over juniper branches, and butterscotch. Though their curated courses often contain meat or fish, Barclay is more than happy to prepare unique dishes for vegetarians and vegans. Head to Bosq for a delectable dinner that supports local farmers, ranchers, artisans, and restaurateurs.

Have you fallen in love with Aspen's culinary scene and offerings and want to build your life here? Contact top broker Steven Shane to lead you to the Aspen real estate you've been envisioning. Steven is consistently ranked in the top three brokers in the Roaring Fork Valley, and he and his professional team will help you find your ideal Aspen luxury home.