Aspen is not only a premier ski destination but also a community rich with culture, dining, shopping, and summer activities. If you are a ski fanatic and enjoy living in a ski community, here are a few of our favorite ski-in & ski-out properties in Aspen and Snowmass.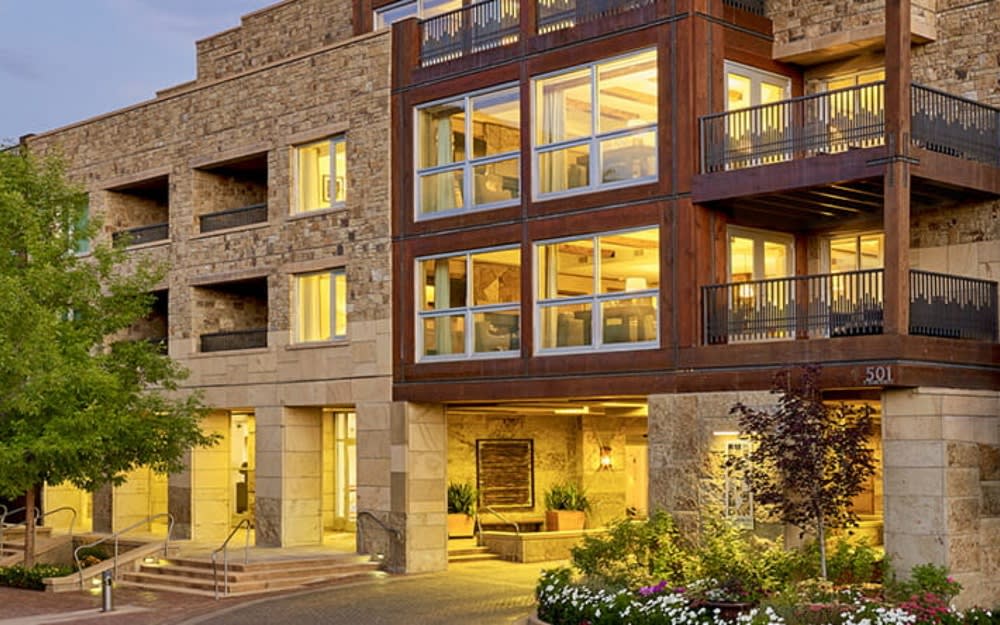 Photo courtesy of The Little Nell Residences

Little Nell was designed with the comfort of each guest and resident in mind. The rooms range in size between 1,700 and 4,000 square feet, and during the winter, you'll enjoy the ski concierge service in addition to ski-in and ski-out privileges. Not only is this property located on the Gondola Plaza at the base of Aspen Mountain, but also a stone's throw away from fine dining and shopping. During the warmer months when skiing isn't an option, you can spend your time hiking, biking, and viewing the breathtaking natural scenery. You can also spend time in the property's rooftop pool while enjoying the mountain view from the terrace, or pay a visit to the property's fully-stocked gym anytime you want to break a sweat. You'll also be blown away by the world-class food service. There are two restaurants and three bars at the property, and each one is staffed with an excellent group of chefs and bartenders who work to make each meal, unlike anything you have ever experienced before. Come in sometime to check out their award-winning wine list or sip on a handmade cocktail.
Each condo at The Crestwood in Snowmass is fully furnished, and with three sizes and types of units to choose from, there's an option that will suit your lifestyle and preferences. The nearby Snowmass Ski Area contains 4,406 vertical feet and 3,332 skiable acres. As a community, they perform upgrades regularly to ensure that every unit meets the highest standards of comfort and luxury. Furthermore, there are
special events offered on-site year-round
to keep guests and residents entertained even when there isn't fresh snow on the slopes. The property also offers three hot tubs, an outdoor heated pool, and a ski concierge. If you're flying into town, you'll enjoy a free round-trip shuttle service from the Aspen airport along with van transportation to the Snowmass Mall and Village Center as well as Snowmass Base Village. As you already know if you've spent much time in the area, the shopping and dining options available in nearby Snowmass Village are unmatched. If you still have open space to fill on your schedule, you can schedule a
whitewater rafting expedition
or a
fly-fishing trip
, with several options to choose from nearby the property.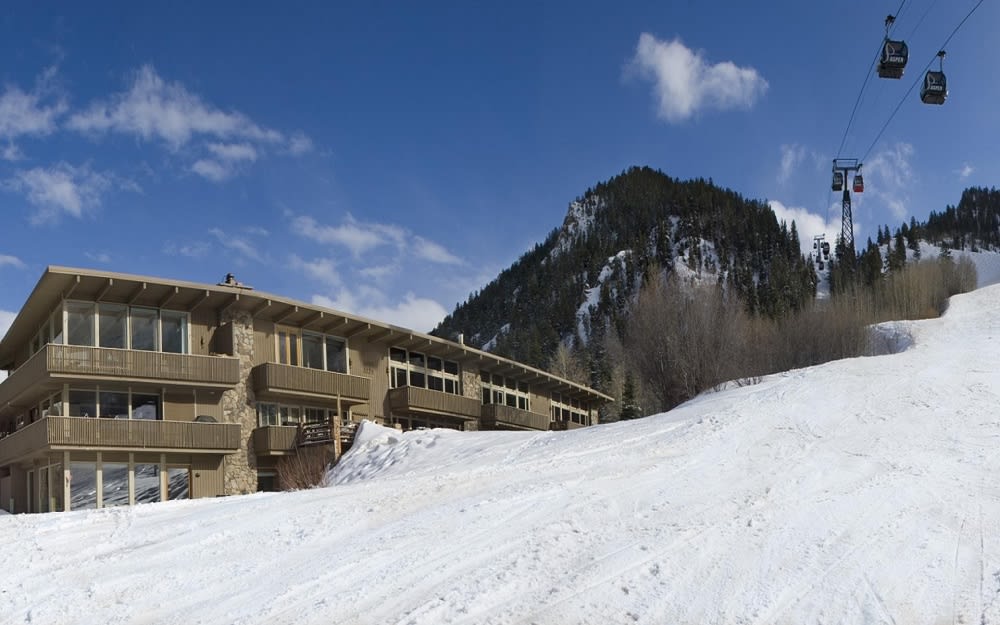 Photo courtesy of The Aspen Alps

Located conveniently next to the Silver Queen Gondola in Aspen, the condos at the Aspen Alps are worth a look for anyone looking for condos for sale in Aspen with great Aspen Mountain ski access. The property includes three different room tiers with options that feature two bedrooms, three bedrooms, or four bedrooms. Guests and residents enjoy the outdoor pool and hot tub, along with the on-site gym and health spa. If you're an avid tennis player, you'll want to schedule matches with friends at the property's tennis courts. The staff is kind, caring, and dedicated to meeting all of your needs. The property is close enough to the main part of town to offer easy access, but far enough removed that you can break away for peace and quiet anytime you want.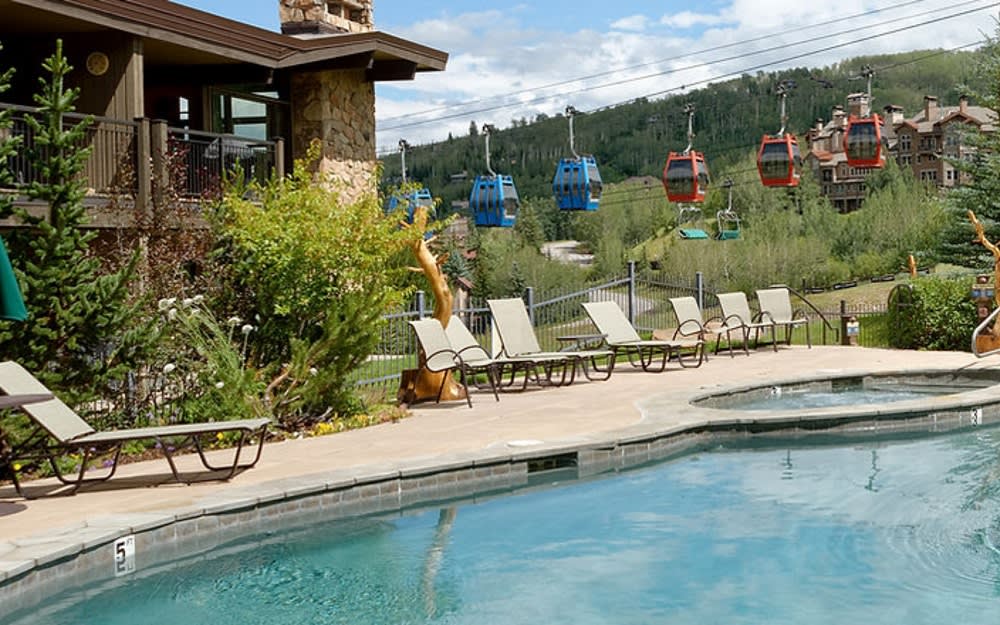 Photo courtesy of Shadowbrook Condominiums

At Shadowbrook, you'll find smaller properties with two bedrooms to larger condos with as many as five bedrooms per unit. The staff remains committed to providing the best possible experience for everyone who stays on-site. In addition to close proximity to the slopes, you'll enjoy easy access to some of the area's top restaurants and shops. There is plenty to do throughout the year, and many visitors take advantage of the on-site ski school (especially if they are new to the sport).
Photo courtesy of vacasa

The Enclave ranges from two to four bedrooms units. The staff remains on-call 24/7 to answer your questions and meet any needs that you may have. At the base of Assay Hill, you'll find ski-in/ski-out services that will get you on the slopes in no time at all. Nearby Snowmass village offers 3,000 acres of skiable terrain in addition to trails for hiking and mountain biking. When you're ready to relax after a full day on the slopes, come back to the property to take a dip in the outdoor hot tub or heated pool.

As you can see, there are several quality options to choose from. They vary in terms of the amenities that they offer, but the one commonality they all have is close proximity to some of the best skiing in Aspen and Snowmass.
When you're ready to start seriously looking for Aspen real estate and Snowmass real estate, consider reaching out to
Steven Shane
. Steven is one of the highest-producing realtors in the area who has consistently delivered high levels of value and service to his clients since he first moved to the area over 25 years ago. He would love to help you find a home in your favorite ski-in/ski-out community, and he's looking forward to hearing from you.

*Header photo courtesy of The Crestwood